For several years, the American conductor Kent Nagano worked on his Messiaen cycle with the Bavarian Radio Symphony Orchestra. He had great success with it in Munich and also at the Salzburg Festival. Now BR Klassik is releasing live recordings of Messiaen concerts in a 3-CD box set. On this occasion Remy Franck talked to Kent Nagano.
Maestro, how did you get acquainted with Messiaen's music and how did it come that you got in touch and could study with him?
The first introduction came through academic studies. Messiaen's music was part of the curriculum for all students of composition classes as well as theory and analysis, while parallel to this, his keyboard works (organ and piano) were introduced by my piano professor. It was only a few years later, that I discovered the depth of his compositional oeuvres, coming upon his collected works in the public library.
The resulting study and fascination led me to program an extensive cycle of his works at the Berkeley Symphony, my first music director position which lead to the beginning of an intense written correspondence with Maître Messiaen himself.  Broadcast recordings of each work were sent to him who would then offer his detailed criticism and commentary. This served as guidance in preparing for the following works in the cycle. After a period, he suggested that we meet as he wished to observe my work live and also that Yvonne Loriod participate as soloist. They came to California and collaborated with our performance of La Transfiguration de Notre Seigneur Jesu Christ and Des Canyons Aux Etoiles – after which Olivier Messiaen invited me to be a part of the premiere of Saint François d'Assise in Paris and during the year preceding to live and study with him and with his wife.
What are the most important things you learned from Messiaen?
The importance as an interpreter to be able to separate the composer from the composer's creation – i.e. his/her composition. On more than one occasion Messiaen was asked whether one had to be religious in order to understand his music and his response was consistently the same. It was clear that his creative inspiration came from his devotion to and belief in the Christian Catholic faith and he wrote extensively about this important relationship.
However, he explained that the resulting creation stood on its own. It was no longer bound to or controlled by the composer and was meant to be experienced by people through their own life experiences.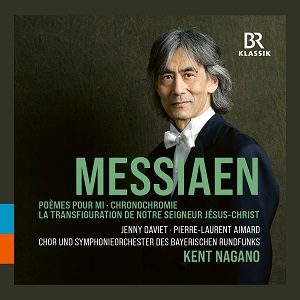 What is the most important thing to observe in conducting Messiaen's music?
In the extensive time I spent with composer and especially in the many hours piano lessons I had with Yvonne Loriod it became clear that as an interpreter of Messiaen (as with any great composer) that it is essential that one first masters to a level of perfection and memorization the precise notation of the score, never imposing subjective, or personal liberty upon the text. Flexibility and suppleness will then eventually come naturally and profoundly.
Do you feel that today Messiaen is sufficiently respected as a composer?
Messiaen is today one of the few composers of the 20th century who are not only well, but highly respected and highly appreciated. Many of his works are now repertoire pieces of musicians of older as well as younger generations. And many of his works are regularly on the programs of music festivals and concert halls.
I often heard people say that say do not understand his music. What would you tell them to learn to appreciate it?
What do music listeners mean when they speak of « understanding » music? According to my understanding and experience, Messiaen wrote music that wants to trigger an « experience » in the listener and bring it to fruition. The tonal spectrum of Messiaen's music is incredibly rich. It resembles a universe of colors. His music often resembles the splendor of baroque music. In it the fullness of life is reflected, it is the echo of a feeling and the sensation for the unique and incomprehensible of the world.
You lived in Messiaen's house. What kind of a man was he, beyond his deep religiosity?
He was and still is a constant source of inspiration. From one who had already attained the status of one of the great composers in history, Messiaen remained ever serious, sincere, breathtakingly honest and unafraid of hard focused long hours of work, constantly striving for perfection – he was a lesson in the importance of maintaining a life of humility, simple, humorous irony and generosity, maintaining his dedication and service as organist to La Trinité until the end.