Since 2016, Czech conductor Jakub Hrusa (*1981) is Chief Conductor of the Bamberg Symphony, but his newest recording featuring Josef Suk's Asrael Symphony was made live with the Symphonieorchester des Bayerischen Rundfunks in Munich. Remy Franck made the following interview with the conductor.
You had a remarkable success with Brahms (reviews here and here) and other non-Czech composers, but you have nevertheless developed a particularly great sensitivity for Czech music. What does it you mean to you?
For me conducting music of Czech composers is like breathing. So natural, so lovely. Sometimes – like with breathing – I even stop noticing how extraordinary a privilege it is: to be an ambassador of these precious cultural creations and understand them to the smallest detail. In my career, I have tried to avoid being pigeon-holed. Out of my love and respect to music of other territories, I have always actually done more non-Czech music than Czech. But among segments of what I do, Czech music plays the most important part of course. And I am delighted that I can occupy myself with it. With no exception. I have yet never felt once that it's a problem. It's always been lovely.
And what place does Josef Suk have in your repertoire?
Since my first encounter with him (I was about 15 years old as I heard Asrael for the first time, live in Brno where I had been born and lived) I've been in love with Josef Suk. I consider him the most important Czech composer in the late-Romantic style, sort of an extension of Antonín Dvořák's compositional path. He was influenced by the best spirits of this extraordinary time of the fin du siècle. Suk, for me, is a quasi-Czech Mahler. Not in the particular style of composition but in his ability and courage to embrace human emotion to the minute detail and offer the whole humanity the most honest reflections of both the happiest and the darkes sides of our psyche, in Suk's case very individually and personally. See the sweet Fairy Tale or the tragic Asrael. But he always turns to us all and offers a view of hope, a catharsis. It's stunning that he is doing it without particular reference to the classical religious spheres. His music is deeply subjective but despite its honesty, it avoids nihilism. Very different, say, from Shostakovich. So: next to Janáček, Suk is definitely the most talented Czech composer of the first half of the 20th century.
You named Suk a quasi-Czech Mahler. Indeed, especially with regard to this symphony, the comparison has been made by other musicians and scholars too. Both plunge into the dark abysses of the human soul, placing fearful sounds next to paradisiacal sounds. But, in your opinion, what distinguishes the two composers?
I think Suk directly reflects much more of his own personal experiences (Mahler would be similar in his songs) and is more lyrical than Mahler. Mahler never wrote operas but his oeuvre is rather very dramatic. It's symphonically theatrical – if one may say so. There's no trace of it in Suk. Suk's music is, on surface, perhaps less varied (= weniger bunt) but shows even more directly the vulnerability of human soul. It's actually more complex. Denser. Very intense in every minute. Darker and sweeter. But both were absolute masters of composition! Amazing people.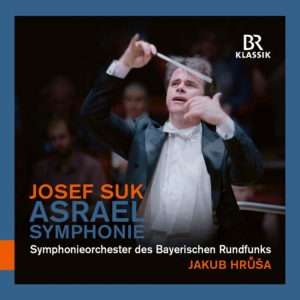 Your recording of the Asrael Symphony with the BR Symphony Orchestra is one of the most exciting I have ever heard. Would it have been different with a Czech orchestra or the Bamberg Symphony Orchestra, and if so, how? And that's what an orchestra in general needs to play Czech music.
This is uneasy to answer. I felt really an incredible bond with the BRSO and their understanding of Suk was so touching. They went for every detail of this fantastic score. They fell in love with it. They gave every bar supreme technical and artistic touch. It was so rewarding for me… I think Suk's music actually isn't nationalistic at all. What differs in, say, the Czech Philharmonic is that they have a deeper experience of it. Before they start playing the first note, they know what Suk sounds, feels like. But with the best orchestras abroad, especially with those with great cultural sensitivity and openness, among which there are my dear Bamberger Symphoniker or these phenomenal musicians of the BRSO, there's no problem discovering the best of Suk's work. It takes talent, time, a good will and some good luck of positive spirits, including on the side of the audience. And we had this all, luckily. I am very happy indeed about this CD. So glad it exists!
The review of the Asrael-CD is here