Internationally-recognised composer and conductor Konstantia Gourzi has composed a set work for the ARD Competition 2018, Evening at the Window, after Marc Chagall's picture of the same name. It will be premiered tomorrow at Munich's Prinzregententheater, when six contestants will play it. Until then, the content of the piece will remain a closely-guarded secret, but in this interview Konstantia Gourzi reveals a few details to Tabea Eppelein.
The set work for the ARD competition is for solo viola – but not exclusively. Some special bells are used in the first movement. How exactly do they sound, and what is the challenge for the perfomer?
The bells are tied to the player's foot, and they have to play them at the same time as the music, without any stamping noises on the floor. Playing another instrument as well as the main one is not only a musical act for me. It is also a challenge, because you have to coordinate your physical balance as well as the spiritual balance of different sounds.
The piece comes from Chagall's Evening at the Window. What inspired you about this painting for your composition, and how does this appear in the music?
I have liked Chagall since I was a child. What fascinates me is the weightlessness that he uses in most of his paintings. Although usually everything in the space appears crooked, the whole looks very unified, beautiful and harmonious. This is what I wanted to put into music, also by using the bells. In the picture, my eye happened to land on the rooster, the moon, the chimney and the couple. I have portrayed these in musical miniatures. Without a time limit for the length of the piece at the ARD Competition, I would have composed many more miniatures. Maybe these will come later.
Your compositions are highly varied. Sometimes one dives into a world of feeling within them, sometimes into a cloud of sound, sometimes virtuoso rhythms or music full of humour. What is Evening at the Window like?
It is a characteristic work for me, but one thing I do for the first time is to use another instrument (the bells) in addition to the main instrument. The Moon took me longer than all the other miniatures, and therefore it appears three times in different variations. Without the moon, the picture would have no light, so this is another reason why it is so important. A Rooster in Heaven, with the bells, is full of strong rhythms, and melody too. Smoke from the Chimney is rather furioso and wild. In the fifth miniature, In Your Arms, there are various rubati and changes of time, so there is a constant, active energy.
Your pieces often involve extra-musical impulses – paintings like Evening at the Window – but also encounters and experiences. How do you incorporate these inspirations?
Music is, among other things, a way to communicate. What I cannot express in words, I fix it musically. Words and music are fundamentally the result of certain feelings and thoughts. They contain a particular energy, a specific musical frequency that should openly and honestly touch an audience, that they may experience their own world more vividly.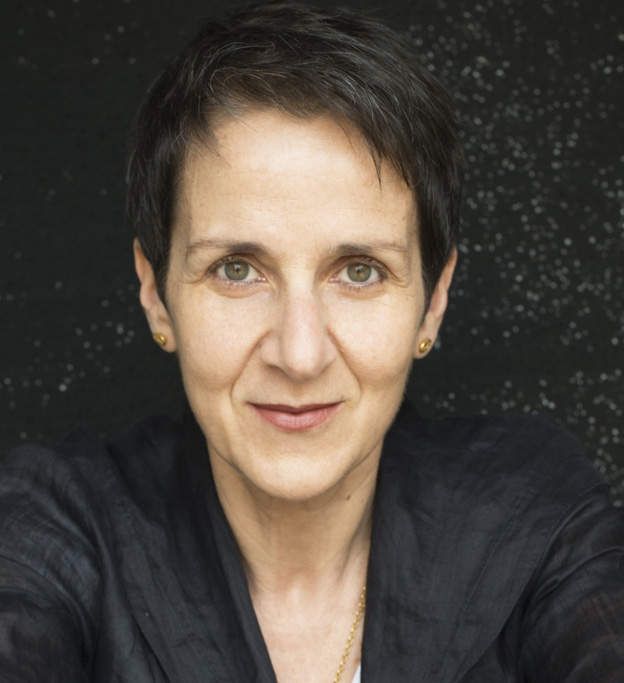 Your music and your international projects create an intercultural dialogue. You yourself are Greek, and have lived in Germany for many years. Why is this intercultural dialogue so important for you, and how do you build it into your compositions?
I am driven to build bridges. Division, red tape and worldly position have brought with them war, value judgements and many other negative circumstances. Nature gives us everything together; there is no separation in beauty. We are also children of nature, even if we do not behave like it any more. During my composition studies in Berlin I was ordered to write like this or like that – and not, how I wanted to. This caused me to suffer for a long time, because I no longer knew who I was. The search for who one is or who one can be, and finding and feeling what is spiritual or divine within that…putting this into music, performing it and therefore communicating it…this is why I am a musician/artist.
Why is it important to know one's own roots, and nonetheless also to look beyond them?
Recognising one's own roots is something that is missing for us more and more in the present day. Without this consciousness, musical communication is a waste of time – or to put it even more clearly, it is a lie. We are put on this earth to recognise the gift of life in its entirety, not only to craft and portray intellectual ideas in a grand style. We have a huge responsibility not only to ourselves, but also to the younger generation, to go forth in honesty, strength, individuality, trust, self-respect and love.
Your music is not only played in Germany and Greece, but now all over the world. How this work?
Today, I have a wonderful network of musicians, who play my music everywhere. The musicians I work with communicate my musical meaning, and that is a state of happiness. Apart from that, music is not written for a country, but for people – it doesn't matter where they come from. We are all connected by the same feelings, longings, joys and worries. Moreover, nothing is prescribed in my music. My pieces give the listener space to unfold themselves, to hear their inner voice, and to remember. I particularly wish this for my audiences. One does not remember the fact that one has heard an intelligent composition, but the heart remembers the emotions of music.
Just three weeks after September 14th, on October 6th, 2018, Konstantia Gourzi will conduct a further world premiere of her own, this time in Rome. Transformation, a staged musical work, is to be considered as a signal against child abuse. It is a commission from the Archdiocese of Freising, as part of an opening event for the new child protection centre in Rome's Pontifical Gregorian University.
Das Semifinale beginnt am 14. September um 16 Uhr und wird auch im Live Stream im Internet zu verfolgen sein.