The  label Le Palais des Dégustateurs publishes two works, Les Complies and L'Office de Prime, by Joachim Havard de la Montagne. This French composer, organist and choirmaster, who was born in Geneva-Plainpalais in 1927 and died in Argenteuil in 2003, deserves our attention. Here's an interview by Remy Franck with the musician's son, Denis Havard de la Montagne.
Your father composed in many genres of classical music, but he seems to have had a preference for religious vocal music. Where does this come from?
Indeed, if he has always been attached to religious music and vocal music in general, it's because he sang in choirs from an early age. At the age of 9, he was already a member of a choir at the Institut Florimond du Petit-Lancy in Geneva, singing Compline in particular. His family lived in Geneva at the time, his father working for the League of Nations (forerunner of the UN).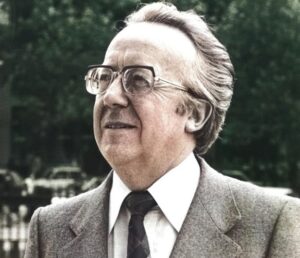 His mother, an accomplished amateur pianist and harmonium player, gave him his first music lessons. With the outbreak of war, the family had to return to France, and it was at the Collège du Sacré-Cœur in Charenton that he completed his schooling.
In this Parisian establishment, the Offices were worthy of pontifical offices, and a great quasi-monastic liturgy was celebrated, served by a youth choir he had joined on his arrival. At the time, the schola was directed by Abbé Paul Vallet (a Schola Cantorum alumnus), then by Père Jacques Delarue (1914-1982), future 1st Bishop of Nanterre in 1966, who also gave harmonium lessons.
Although there was no in-depth musical instruction, there were frequent singing rehearsals, during which students were introduced to Gregorian chant and Renaissance polyphony. Later, at the Ecole supérieure de musique César Franck, which he had joined in 1946, he discovered Bach's Passions and Cantatas with the choir, and had the opportunity to take part in the premiere of an Oratorio by Guy de Lioncourt.
To sum up his compositions, they can be divided into several periods: at the beginning, and for a dozen years or so, he wrote almost exclusively for the liturgy, then, around 1962, 'disgusted' with continuing in this genre due to the changes in liturgy brought about by Vatican II, he turned for a time to instrumental music, writing for piano, organ, harpsichord, harp, guitar and a few secular songs. His appointment at La Madeleine in 1967 gave him a taste for composing again for the liturgy (Répons, masses and motets…) as well as major religious works for solo, choir and orchestra (Cantique de David, Magnificat, Ode à Sainte-Madeleine, Psaume 150, Complies, Office de Prime…).
He was choirmaster and organist in several smaller churches, and in 1967 was appointed to the Eglise de la Madeleine, with its magnificent grand organ by Aristide Cavaillé-Coll, where he remained for thirty years as Maître de Chapelle, a position Gabriel Fauré had held from 1877-1896. What role did he play in this church?
When he arrived at this prestigious church, in the parish of l'Elysée, the Maîtrise consisted of some fifteen singers, most of them excellent professionals, and he initially devoted himself exclusively to liturgical music.
The late Jeanne Demessieux was then titular of the great organ. This was part of a long musical tradition which, in addition to the aforementioned Fauré, was maintained over the decades by such illustrious musicians as Théodore Dubois, Alexandre Lefébure-Wély and Camille Saint-Saëns as organists and maîtres de chapelle; their assistants were also of great stature: Eugène Gigout, Fernand de la Tombelle and Nadia Boulanger, among others.
The church's music library was impressive, including manuscripts by Fauré (an unknown Benedictus he resurrected), Dubois, Saint-Saëns and numerous scores by Mozart, Haydn, Schubert, 19th-century French composers and Renaissance Italians. It was he who brought in more French classics, German baroque and contemporary works, thus broadening the Maîtrise's repertoire to include mainly liturgical works. He would later go on to write over eight hundred titles, renewing the music for ceremonies and other musical events.
As far as religious ceremonies were concerned, he was always concerned « …to respect the texts laid down in the official liturgy and the spirit of the liturgical period » in which he lived, taking great care « to choose polyphonies in close correlation with the spirit of the liturgy of the feast. » Among his extensive repertoire performed throughout the liturgical year, he was particularly fond of Masses by Gretchaninoff, Bruckner, Haydn, Mozart, de Ranse, Wöss, Nibelle, Vierne and Gounod, Büsser, Hilber, Alain, Himmel, Psalms by Litaize, Samson, Roesgen-Champion, or motets by Vittoria, Duruflé, Poulenc, Delalande, Elgar, de Séverac, Schumann, Vivaldi, Fauré, Liszt, Franck… He also conducted music at the funerals of Cino Del Duca, Francis Bouygues, Tino Rossi, Michel Simon, Thierry Le Luron, Joséphine Baker…
In 1970, with the help of his wife Elisabeth (organist and harpsichordist, who died in 1980 at the age of 52), he founded 'Les Choeurs de la Madeleine', a group of some sixty choristers with whom he gave numerous concerts. In 1974, he created a monthly series of concerts, 'Une heure de musique à La Madeleine', which proved very popular with Parisians. For more than two decades, between 1974 and 1996, these series of 237 concerts attracted music lovers of all ages and backgrounds; 300 to 500 people attended these concerts, and even more for great works such as Mozart's Requiem or Cherubini's (700 to 800 people). He conducted most of these concerts himself, with professional soloists, sometimes accompanied by the choir, and the Ensemble instrumental de la Madeleine, made up entirely of professional musicians; other concerts were led by outside groups invited by him.
In this way, he helped audiences rediscover numerous masterpieces, including Michael Haydn's Requiem, Johann Christian Bach's Requiem and Gounod's Requiem, whose scores, annotated in Fauré's hand, had been buried in the cellars of La Madeleine, Schubert's Stabat Mater, Joseph Haydn's Seven Words of Christ on the Cross, those of Théodore Dubois, Mendelssohn's oratorio Christus, Bach's Easter Oratorio, Handel's St. John Passion, Perosi's St. Mark Passion… His important musical role in this church earned him promotion to the rank of Commander in the Pontifical Order of St. Gregory the Great (1995).
What was his relationship with other musicians, e.g. Olivier Messiaen?
Organist, choir and orchestra conductor, Maître de Chapelle and composer, he enjoyed excellent professional relations with a large number of musicians, both for his musical activities in Parisian churches and for his activities within the Union des Maîtres de Chapelle et Organiste (UMCO), of which he was elected general secretary in 1960. Chaired at the time by organist, conductor and composer Henri Büsser (1872-1973), who had taken over from Charles-Marie Widor in 1936, this professional organization brought together most musicians active in the religious world. This is how he came to rub shoulders with, among others, Olivier Messiaen, with whom he was a member of the Sacred Music Commission of the Diocese of Paris from its creation in 1964, along with Gaston Litaize, Jean Langlais, Canon Revert and R.P. Emile Martin. Messiaen was also organist at the Trinité church in Paris for over half a century. Among the other musicians with whom he was in contact, let's not forget to mention Pierre Cochereau, the organist of Notre-Dame de Paris, Marie-Claire Alain, whose fame is worldwide, Maurice Duruflé, the organist of Saint-Etienne-du-Mont, Norbert Dufourcq, musicologist and organist of Saint-Merry, Bernard Gavoty, music critic well known under the pseudonym of Clarendon, the composer Guy de Lioncourt, Marcel Dupré, Jean Guillou, etc…. He also maintained close relations with the Fauré family, including Mme Emmanuel Fauré-Frémiet, his daughter-in-law.
Your father made a number of recordings that are largely absent from today's catalogs.
Indeed, he has several recordings to his credit, including the world premiere of Gounod's Requiem, awarded an Orphée d'or by the Grand prix international du disque lyrique (Arion, ARN 38443), the Te Deum and Messe Chorale by the same composer (ARN 38630), Michel Corrette's Laudate Dominum (on Vivaldi's Printemps) and Henri Desmarets' Mystères de Notre Seigneur Jésus Christ (conductor: Guy Cornut, Erato STU 70914) and, for the Le Chant du Monde label, some thirty chansons harmonisées pour l'Histoire de France par les chansons (1957) by Pierre Barbier and France Vernillat, whose historical interest Régine Deforges pointed out just a few years ago (LDY 4103 to 4111).
His 1993 recording of Complies& L'Office de Prime (BNL/Auvidis 112853) was again awarded an Orphée d'or. While some of these discs are out of print, others are still in the catalog of the labels concerned, including the two Gounod recordings on Arion-Music.
Your father was also a musicologist, and even took an interest in Baroque music when it was not really fashionable…
Exactly, long before the Baroque vogue, in the early 1950s, he became interested in early music, and, with the collaboration of his wife, he restored and produced several works from the 17th and 18th centuries from manuscripts or early editions held at the Bibliothèque Nationale*.
In an article on Interpretation written in 1990, Joachim Havard de la Montagne addressed the subject of the Baroque fad: « It is obvious that the search for historical truth in terms of technique and interpretation is not enough; one must be imbued with these religious texts, have sung them in the liturgy, believe in this sacred liturgy as the expression of the Faith, and have practiced the functions of Cantor, Chapel Master and Kapellmeister. […] pointing out that it sometimes lacks grandeur, emotion, brilliance and feeling, giving way to 'narrow-minded music', with panting breathing, automatic phrasing and graceless ornamentation. »
How would you define your father's music?
It has sometimes been said that some of his works are marked by the French school of music, with accents of Debussy or Florent Schmidt or even Dutilleux; the colors are vivid, impressionistic, the accents always controlled. Others see it as a synthesis of Fauré-Debussy-Ravel. Indeed, he himself said that, in terms of writing, it was the teachers at the Ecole César Franck who probably had the greatest influence on him: « These excellent musicians, such as Guy de Lioncourt and Marcel Labey, were the heirs of Vincent d'Indy and the greatest admirers of César Franck. They undoubtedly influenced me for a certain rigor, in the religious essence of all music, in the art of drawing inspiration from Gregorian chant. »
Among the musicians to whom he was most attached are, of course, Johann Sebastian Bach, followed by Mendelssohn (with his extraordinary Psalms and Oratorios), Saint-Saëns, Fauré, Ravel, Honegger and Rachmaninov. It's hardly surprising, then, that a good proportion of his compositions reflect feelings of intimacy and depth, which are the effect of the beauty of modal themes and harmonies: « On the subject of Gregorian inspiration, » he said, « I love writing modal music even more than tonal music. I feel that this form of expression has not often been exploited; it allows for rich and abundant developments and touches the listener enormously. I'm in complete contradiction with certain authors of concrete, serial and avant-garde music, who think that everything has already been written in music, and that the assembly of various and varied noises, often aggressive, must henceforth replace music that provides sounds that are pleasing to the ear! »
Tell us about the compositions featured on the Palais des Dégustateurs disc, Les Complies and L'Office de Prime.
First of all, let's hear what the composer had to say in a 1994 interview: « Since we're talking about Les Complies and l'Office de Prime, I must admit that these two works are the ones I'm most attached to, for several reasons: the size and duration of each of them, the large number of performers they require, the recording that was made of them, the award they earned me and, above all, the memory of the inspiration provided by these carefully chosen texts, as well as the feeling of having succeeded in fully expressing myself. The making of Complies was in a way emotionally indispensable to my search for peace. Ten years later, the creation of the Office de Prime brings me, as a complement, the same satisfaction in my need to express myself. Of course, the chosen texts are the starting point for inspiration. My great concern is to succeed in closely linking the expressiveness of the themes, harmony and instrumentation with the profound meaning of the words and the evocation of the dedicatees. »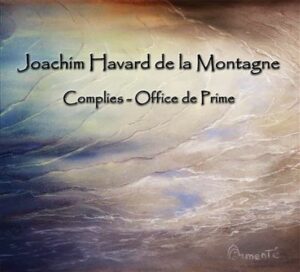 The Office of Compline is both evening prayer in the peace of twilight, and self-surrender into God's hands for the sleep of night. In some of the texts of this poetic office, sleep is compared to eternal rest with the Redeemer: in this way, the desire to aspire to this eternal rest can be expressed, which will be beneficial since it will reunite us with those who have already left us and whom we miss here on earth…
The composer has deliberately blended Latin and French texts, in order to preserve the sacred character of these liturgical texts through the Latin, while giving the work a more intimate aspect, thanks to the French translation of the psalms. The Gregorian chant of this office also plays an important role in the work, from which he draws inspiration on several occasions.
Joachim Havard de la Montagne wrote this work in 1981 for his wife, who had died the previous year, in her memory and « presence ». Dedicated to the Chorus, Soloists and Instrumental Ensemble of La Madeleine, it is like a case built around the theme formed by the notes corresponding to the letters ELISABETH, a theme that reappears on several occasions.
Not seeking originality, let alone the 'new' at any price, the author has simply translated the meaning and expression of these texts, as well as the emotion they inspire, from the depths of his heart, through music that is above all sincere. He wanted to evoke the evening of a shared life, itself bathed in music, but all too soon interrupted, and the mystery of eternal life which must, one day, reunite with God those who love each other but whom death has separated.
The work is divided into several parts, which follow each other in the sequence of the liturgical office:
– Evocation of nightfall (orchestra)
– Invitatory and benediction
– Deus in adjutorium… (as at the beginning of each office)
– Antiphon and three Psalms (4,90,133)
– Evening hymn
– Brief responsory: In manus tuas
– Salva nos… and « Cantique de Simeon ».
As for the Office de Prime (1991), this work is a sequel to Complies and a kind of fulfillment. It is the morning prayer after the night's rest, the first office sung by the monks as soon as they wake up. But daybreak also evokes birth, life and hope. This is why the central theme, which recurs three times in the work, is formed this time by the notes corresponding to the letters B.D.C.V.G.S., the initials of the first names of the composer's children.
As in the Compline, Latin and French texts are used to the same effect, and Gregorian chant is given equal prominence. In addition, the normal liturgical course of this service provides the outline for the work:
– Daybreak evocation
– Deus in adjutorium… Gloria Patri (as in every liturgical office)
– Morning hymn
– The three Psalms: Ps. 117, Ps. 92, Ps. 53
– Brief responsory Christe Fili Dei vivi, miserere nobis
– Benedicamus Domino, Deo gratias.
To underline the continuity between Les Complies and the Office de Prime, the same orchestral line-up is used alongside the choir and three soloists, this time with the addition of the harp, strings, flute, oboe, bassoon, three horns, timpani and organ. Once again, Joachim Havard de la Montagne, with the same arrangements and the same language, wanted to evoke hope, confidence, the mystery of life and the consolations and joys that God has in store for us. This task was made easier by the prospect of entrusting the creation and first auditions to his soloist friends, and to his friends from the Choirs and the Ensemble Instrumental de La Madeleine, to celebrate their twentieth anniversary in November 1991, in union with the woman who co-founded them.
In 1994, commenting on these two works, musicologist François Sabatier wrote: « […] Joachim Havard de la Montagne's music thus responds to the demands of a church music accessible to all, and, in a very French spirit of color and a language derived from that of Fauré, falls into an expressive, Gregorian neo-impressionism. As with Duruflé, the organ combines elegantly with the sonorities of the orchestra, casting its blazing fires or setting ethereal atmospheres, as at the beginning of the Office de prime, where it mingles with the harp with angelic gentleness. »
The reissue of these two works, on the excellent initiative of Eric Rouyer, director of the Le Palais des Dégustateurs label, thus celebrates this year 2023 both the thirtieth anniversary of their recording and the twentieth anniversary of the composer's death. We are extremely grateful to him.
*(Campra : Pange Lingua, soli, chœur à 5 voix mixtes, orgue, orchestre (1953, Procure du Clergé) ; De Profundis, psaume CXXIX, soli, chœur, orgue et orchestre (c. 1962, Procure du Clergé) ; Adducentur regi virgines (extrait du Psaume 44 Eructavit cor meum ), soli, chœur, orgue et orchestre (1954, Procure du Clergé) ; Quam dilecta , chœur à 3 voix mixtes, orgue et cordes (1963, Procure du Clergé) ; Messe Ad majorem Dei Gloriam, 4 voix mixtes a capella (1952, Procure du Clergé/Editions musicales Charles Huguenin & Pro-Arte), de Louis Nicolas Clérambault : Germinavit radix jesse, motet à la Sainte Vierge pour 2 voix égales pour orgue et violoncelle (1954, Procure du Clergé), de Michel Corrette : Psaume Laudate Dominum sur le Printemps de Vivaldi, solo, chœur, orchestre,(1966, Costallat/Leduc) de Henry Desmarets, (attribution incertaine) : Les Mystères de Notre Seigneur Jésus Christ, oratorio en 5 parties pour soli, chœur à 4 voix mixtes, orchestre et orgue (1953, Procure du Clergé/Leduc), de Georges Frédéric Haendel : Gloire à ton nom, divin roi. Alleluia ! (chœur extrait de l'Anthem XIII) et Anges de Dieu, louez le Seigneur (idem), chœur, orgue, cordes, trompette (1956, Procure du Clergé) et de Bernardo Sabadini : Ave verum, chœur à 4 voix mixtes et orgue (1951, Éditions F.X. Le Roux) qui ont été éditées et certaines enregistrées (Studio SM, Erato).