French composer Hector Berlioz died on 8 March 1869, so 2019 will be the sesquicentenary (150th anniversary) of his death. 'Berlioz 2019' being launched not in France but in the United Kingdom, it may not surprise that one of the first publications comes from London. Today, on 30 November, the label LSO live presents a 10 CD + 6 SACD box with the Complete Sir Colin Davis Recordings under the title Berlioz Odyssey.
Sir Colin Davis (1927–2013) was internationally recognised as the foremost Berlioz interpreter of his time, and the recordings he made with the London Symphony Orchestra stand as some of the greatest accounts of the composer's work ever recorded.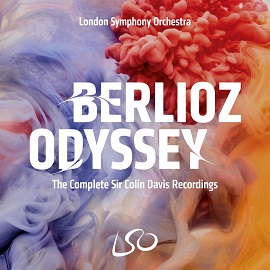 This 16 disc box set brings together all of Davis's iconic Berlioz recordings made for LSO Live, from celebrated interpretations of popular orchestral works like Symphonie Fantastique, Harold en Italie, Roméo et Juliette, La Damnation de Faust, Grande Messe des Morts to vocal recordings, including the double Grammy Award-winning Les Troyens Benvenuto Cellini and L'Enfance du Christ.