Meisterhaftes mit Wilhelm Backhaus
Zu den Klavierabenden von Wilhelm Backhaus (1884-1969) pilgerte ich als junger Musikfreund. Er war damals, Ende der Sechzigerjahre, ein alter Mann, aber ein Pianist, der in seinem Musizieren eine unglaubliche Intensität kommunizierte. Profil veröffentlicht nun eine Backhaus-Edition mit 10 CDs. Ob in den Mozart- oder Beethoven-Sonaten, den Brahms- oder Beethoven-Konzerten, den Chopin-Etüden und weiteren Stücken aus seinem großen Repertoire, Backhaus ist oft gut für eine Überraschung und fasziniert eigentlich in allen Aufnahmen (sie entstanden zwischen 1908 und 1959) durch die Klarheit seiner Interpretationen und viel Energie. Abram Chasins schrieb über den deutschen Pianisten: « Backhaus war eine scheue, ungekünstelte, verinnerlichte Persönlichkeit, deren sensationelle Fähigkeiten so unsensationell dargeboten wurden, dass das Laienpublikum keine Ahnung von seinen sagenhaften Talenten besaß." Das sagt viel aus über Backhaus, nämlich, dass er einer jener Pianisten war, die den Noten auf den Grund gehen und sie in einer sachlichen Natürlichkeit äußerst lebendig und ohne irgendwelche Manierismen zu Gehör bringen. – As a young music lover, I had the chance to attend piano recitals of Wilhelm Backhaus (1884-1969). He was an old man then, in the late sixties, but a pianist who communicated an incredible intensity in his music-making. Profil is now releasing a Backhaus edition of 10 CDs. Whether in the Mozart or Beethoven sonatas, the Brahms or Beethoven concertos, the Chopin Etudes and other pieces from his large repertoire, Backhaus is often good for a surprise and actually fascinates in all recordings (they were made between 1908 and 1959) with the clarity of his interpretations and a lot of energy. Abram Chasins wrote of the German pianist: « Backhaus was a shy, unaffected, internalized personality whose sensational abilities were so unsensationally performed that the normal audience had no idea of his fabulous talents. » This says a lot about Backhaus, namely that he was one of those pianists who got to the bottom of the scores and made them heard in a matter-of-fact naturalness, extremely lively and without any mannerisms.  (Profil PH21003) – ♪♪♪♪♪
Beethoven: warum nicht pröbeln?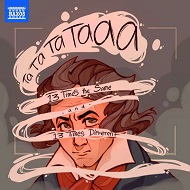 Wie unterschiedlich der Beginn von Beethovens 5. Symphonie klingen kann, zeigt ein Album von Naxos, auf dem die ersten Minuten der Symphonie unter 11 verschiedenen Dirigenten zu hören sind: Klemperer, Skrowaczewski, Horenstein, Rosbaud, Goodman, Müller-Brühl, Adam Fischer, Gielen, Norrington, Kegel und Drahos. Das ist eine Label-spezifische und keineswegs repräsentative Auswahl, zumal die bedeutendsten Dirigenten fehlen. Daneben gibt es noch die ganze Symphonie in einer keineswegs herausragenden Aufnahme mit dem Symphonieorchester aus Malmö unter Robert Trevino zu hören und nochmals den Beginn in der Liszt-Transkription mit Konstantin Scherbakov. Die Ausgangsidee für diese Produktion ist interessant, und selbst die Durchführung ist trotz des begrenzten Materials attraktiv. – Just how different the opening of Beethoven's 5th Symphony can sound is demonstrated by an album from Naxos that features the first few minutes of the symphony under 11 different conductors: Klemperer, Skrowaczewski, Horenstein, Rosbaud, Goodman, Müller-Brühl, Adam Fischer, Gielen, Norrington, Kegel and Drahos. This is a label-specific and by no means representative selection, especially since the most important conductors are missing. There is also the entire symphony in a far from outstanding recording with the Malmö Symphony Orchestra under Robert Trevino, and again the opening in the Liszt transcription with Konstantin Scherbakov. The initial idea for this production is interesting, and even the development is attractive despite the limited material. (Naxos 8.551451) – ♪♪♪♪
Französische Bläsermusik.
Mit viel Energie, Enthusiasmus aber auch Sensualität spielen das Orsino Ensemble und Pavel Koleskinov am Klavier französische Musik für Blasinstrumente von Roussel, Debussy, Saint-Saëns, Chaminade, Koechlin und Caplet. Das spontane und kommunikative Musizieren der fünf Musiker (Adam Walker, Flöte, Nicholas Daniel, Oboe, Amy Herman, Fagott, Matthew Hunt, Klarinette, Alec Franck, Horn) kann nur begeistern. Die exzellente Aufnahmetechnik garantiert maximale Durchhörbarkeit und Präsenz. – With a lot of energy, enthusiasm but also sensuality the Orsino Ensemble and Pavel Koleskinov at the piano play French music for wind instruments by Roussel, Debussy, Saint-Saëns, Chaminade, Koechlin and Caplet. The spontaneous and communicative music-making of the five musicians (Adam Walker, flute, Nicholas Daniel, oboe, Amy Herman, bassoon, Matthew Hunt, clarinet, Alec Franck, horn) can only inspire. The excellent recording technique guarantees maximum audibility and presence.  (Chandos CHSA5282) – ♪♪♪♪♪
Adam  Walkers spannende Tour de France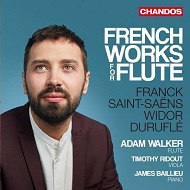 Der britische Flötist Adam Walker spielt bei Chandos Werke französischer Komponisten, u.a. die Romanze von Saint-Saëns, César Francks Sonate für Violine & Klavier im Arrangement für Flöte & Klavier, Widors Suite c-Moll und Duruflés Prélude, Récitatif & Variations für Flöte, Viola & Klavier. Am Klavier begleitet von James Baillieu und mit Timothy Ridout  auf der Viola bestätigt Walker einmal mehr seinen hohen Rang als Flötist. Er spielt sehr expressiv, manchmal ekstatisch kraftvoll und scharf, dann wieder sensuell und warm, so zeigend, wie sehr er sein Instrument beherrscht, aus dem er die unterschiedlichsten Farben hervorholen kann. –  British flutist Adam Walker performs works by French composers on Chandos, including Saint-Saëns' Romance, César Franck's Sonata for Violin & Piano arranged for flute & piano, Widor's Suite in C minor, and Duruflé's Prélude, Récitatif & Variations for flute, viola & piano. Accompanied on piano by James Baillieu and with Timothy Ridout on viola, Walker once again confirms his high standing as a flutist. He plays very expressively, sometimes ecstatically powerful and sharp, then again sensual and warm, thus showing how much he has mastered his instrument, from which he can bring out the most diverse colors. (Chandos 20229)  – ♪♪♪♪♪
Energetischer Chopin mit Véronique Bonnecaze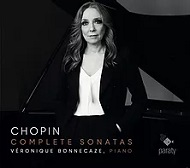 Véronique Bonnecaze spielt bei Paraty sämtliche Klaviersonaten von Frédéric Chopin. Sie spielt energetisch wie ein Klavier-Kraftwerk. Chopin faucht und grollt wie ein Löwe. Der Klang ist von der Tontechnik zusätzlich durch recht viel Hall verstärkt worden. Der Transparenz dient das freilich nicht. Die CD sorgt jedoch für Abwechslung im Angebot. – Véronique Bonnecaze plays all piano sonatas by Frédéric Chopin on Paraty. She plays energetically like a piano powerhouse. Chopin hisses and growls like a lion. The sound has been additionally amplified by the sound engineering with quite a lot of reverb. Admittedly, this does not serve the transparency. The CD does, however, provide variety in the catalogues. (Paraty 121365) – ♪♪♪♪
Hommage an Dennis Brain
Warner ehrt den legendären Hornisten Dennis Brain mit einer Sonderedition von 11 CDs, in der die wichtigsten Hornkonzerte, viel Kammermusik und etliche Bearbeitungen enthalten sind. Dennis Brain war nicht nur ein technisch meisterhafter Interpret, sondern auch einer unmittelbar expressiver und spontaner. Das wird in diesen meist oft schon in diversen anderen Zusammenstellungen veröffentlichten Aufnahmen sehr deutlich. – Warner honors the legendary horn player Dennis Brain with a special edition of 11 CDs, including the most important horn concertos, much chamber music and quite a few arrangements. Dennis Brain was not only a technically masterful performer, but his playing was immediately expressive and spontaneous. This becomes very evident in this compilation. (Warner 0190295019921) – ♪♪♪♪
Einfache Musik, anspruchsvoll gespielt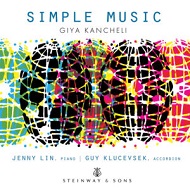 Simple Music nennt sich eine CD von Steinway & Sons, auf der die Pianistin Jenny Lin und der Akkordeonist Guy Klucevsek 33 Miniaturen von Giya Kancheli spielen. Das längste davon dauert einige Sekunden mehr als drei Minuten. Jenny Lin und Guy Klucevsek spielen die meist an Salon- oder Barmusik erinnernden Werke anspruchs- und stimmungsvoll. Definitiv sehr unterhaltsam! – Simple Music is the name of a CD from Steinway & Sons on which pianist Jenny Lin and accordionist Guy Klucevsek play 33 miniatures by Giya Kancheli. The longest of them lasts a few seconds more than three minutes. Jenny Lin and Guy Klucevsek play the works, mostly reminiscent of salon or bar music, in a sophisticated and atmospheric manner. Definitely very entertaining! (Steinway & Sons 30173) – ♪♪♪♪