Jean-Claude Vanden Eynden releases a César Franck CD with the French label Le Palais des Dégustateurs. Remy Franck made the following interview with the pianist.
In 1970, in a review of a concert by the Jeunesses Musicales du Luxembourg, I noted your natural, direct playing and, above all, your balanced, velvety sound, and concluded: « His highly expressive playing, free of all superfluous affectation, was a fine tribute to Beethoven ». These qualities still touch me in your new recording. But what would you say if I asked you how your perception of Franck's music has changed since your youth?
I've been working on Prélude, Choral et Fugue since the age of 14, and over the years of concerts where the work has been programmed, my conception has evolved. After a literal approach and respect for the text, came the time for a better understanding of the meaning (finding what is not written, as Pablo Casals used to say), leading now to a search for unity of form.
More generally, what does César Franck's piano music mean to you?
Franck, like Brahms, succeeded in balancing classical form and Romantic inspiration, while adding the particularity of cyclical form. But it's the spiritual dimension of his inspiration, the mystical side that gives his music all its power.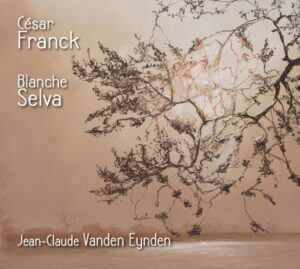 Many pianists have chosen Durand's four-hand version of Franck's chorales. You prefer Blanche Selva's transcription. Why is that?
I wanted to find a complement to the Prelude, Chorale and Fugue recording, and I searched hard, not wanting the traditional triptych that adds Prelude, Aria and Finale and Prelude, Fugue and Variation. I turned to other composers, but without finding any convincing works. Then Eric Rouyer told me about Blanche Selva's transcriptions. I thought long and hard about it, and finally the challenge of doing the 3 chorales for organ on piano appealed to me. Without modifying anything of Blanche Selva's writing, I did add the use of the Steinway pedal, which curiously is not noted in the score. It was also an opportunity to honour an exceptional pianist, a great admirer of Franck and a great interpreter of his music.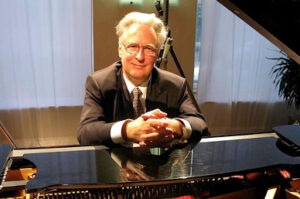 In 1964, at the age of 16, you won the Queen Elisabeth Competition. Since then, you've been a member of the jury on numerous occasions. What has changed since 1964?
The Competition has remained very stable in terms of artistic requirements. The programs required have been lightened a little, allowing greater freedom of choice in terms of works. The second round features two recitals of works of one's choice. The Competition is increasingly popular with young musicians: in 1964, there were 80 participants, and now there are over 300! What has changed above all is greater media coverage and recordings of performances.
Nowadays, the value of competitions is often debated. Some say: Competitions aren't important. Others say they're very important. In your opinion, how important are competitions?
I think that competitions allow fairly rapid access to a concert career, but not for every musician. You need a particular nervous balance and a taste for risk. In fact, success in a competition is a start, revealing young artists. But when it comes to professionalism, everything remains to be proven over time. I remember that Kristian Zimmermann wanted to offer an alternative to competitions for young artists who didn't feel strong enough to compete, and I think that in this day and age, other ways are possible.
Many pianists rally around a particular school or tradition. Where do you come from?
I was trained by Eduardo Del Pueyo, a Master in every sense of the word. I worked with him for five years at the Conservatoire Royal de Bruxelles and at La Chapelle Musicale Reine Elisabeth. He taught the method of Marie Jaëll, a pupil of Franz Liszt. This method is mainly based on movement awareness and psycho-physiology. It gives us control over our playing and a fairly scientific understanding of touch.
Gabriel Tacchino once told me: « I have a tradition to defend ». Why is tradition important to you?
Tradition is important because it's the fruit of an evolution that forms the basis of our knowledge. But tradition is not an end in itself. A tradition that remains static is bound to become sclerotic. It is a first order on which artistic freedom and creativity can soar.
Nelson Freire once said, « The older I get, the closer I am to my childhood, and the more aware I am of it. » Would you share such an opinion?
I can share this opinion in part. Baudelaire said: « Genius is only childhood rediscovered at will. » But I don't really feel that I'm close to my childhood and aware of it. Of course, I do think back to my childhood, and it's a journey of wonder that I allow myself to take from time to time.
What's important to you when you teach?
When you've been given a gift, you have to cultivate it and then share it through teaching. What counts is the quality of the transmission of my knowledge and always trying to put myself at the student's level without asking the opposite. Pedagogy is the transmission of knowledge, but the student must be capable of receiving the message.
What are the two or three highlights of your career when you look back?
The highlight is undoubtedly the 1964 Queen Elisabeth Competition. Apart from being the youngest winner, I was lucky enough to meet the extraordinary personality that was Queen Elisabeth, and that had a big impact on me. Then a New Year's concert in St. Petersburg (Leningrad at the time), with orchestra, where I performed both Rachmaninoff's 2nd Concerto and Brahms' 2nd Concerto at the same concert! And more recently, concerts and recordings of Schubert's Sonata D 960. Every time I perform, I get goosebumps and the audience comes up to me at the end of the concert with tears in their eyes…..
Jean-Claude Vanden Eynden und César Franck: Geistige Durchdringung