Hellen Weiß and Gabriel Schwabe recently published a new CD on Naxos with Hungarian music. René Brinckmann spoke with both musicians about the new recording
Ms. Weiß, Mr. Schwabe, what gave you the idea of recording a whole album (Pizzicato review) with Hungarian music?
Hellen Weiß: We have been playing the Kodály duo in concerts for a while now and therefore worked on the piece on and off for a period of time. And every time we returned to this music and its incredibly exact notation with a lot of enjoyment and curiosity. At the end of last year, we felt like the right time had come to record it.
Gabriel Schwabe: Despite having known and studied Kodály's solo sonata for several years, it took a while before I played it in concert. The instrumental and musical demands of this piece are considerable and uniting the vastness of its musical language without losing tension is a challenge of its own. The fact that both Kodály works are close musical relatives and that Ligeti was inspired by Kodály for his own solo sonata makes this programme especially coherent and interesting to me.
The repertoire for violin and cello is not very large, despite it being an especially beautiful combination of instruments. Why do you think music history has largely overlooked the duo?
HW: There is a vast repertoire for solo violin as well as for string quartet. The string duo sits somewhere in the middle between these two. To obtain a full sound with the duo as you would aim for in a string quartet, both players have to be proper virtuosos on their instruments. The Kodály duo is a highly virtuosic piece which includes long passages of double stops for both instruments.
GS: In addition, the music of the romantic era in particular lives of its rich and polyphonic harmonies which carry the music continuously with very few interruptions. With just two instruments this is somewhat difficult to achieve.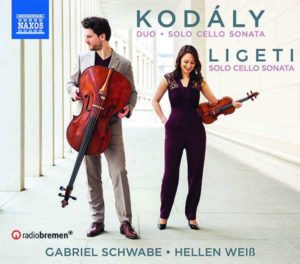 Is it known how Zoltán Kodály got the idea of writing his Duo Sonata Op. 7 which you have recorded on your latest album?
GS: I think that having been a somewhat exotic combination at the time of composition, the violin-cello duo held a certain appeal for the composer's heavily folkloric writing. Also, Kodály taught himself to play the cello, so he may have been more open to experimenting with the string instrumentation. In any case it is known that Ravel knew Kodály's duo and was inspired by it to write his own Sonata for violin and cello.
The comparison between the Kodály Solo Sonata and the Duo is remarkable: The Duo echoes Hungarian folk music in many places, whereas the Solo Sonata seems a lot more "classical". How do you view this? Both works even have consecutive Opus numbers, suggesting that he got a real taste for the cello after his Op. 7.
HW: The folk character of the duo is especially dominant in its first and third movements. In the execution, we found it very important to let this primal expressivity unfold through the very particular "peasant rhythms". These rhythms in combination with Kodály's very precisely noted articulation and accents give the music its unique folkloric expression. In addition to that, the many tempo changes make the music sound free and spontaneous. Kodály's detailed writing hints at how exact his conception of the piece must have been.
GS: The solo sonata certainly has fewer playful elements than the duo and is a lot stricter in concept. Despite its formal vastness, the musical material is very dense and compact, yet the close motivic and formal relationship between both works can be felt throughout. It is remarkable how Kodály takes the already very soloistic parts in the duo a step further with the solo sonata by letting the cello take musical matters into its hands – with groundbreaking results for the genre.
In the first half of the 20th century there were several composers who -often inspired by the Solo Suites by Bach- wrote works for solo cello. Why is it that there was so little interest in the solo cello in the 19th century, except for the "usual suspects" like Romberg or Popper who wrote for their own instrument?
GS: We touched upon the problems for the string duo in romantic music earlier – this certainly applies especially to the solo cello. The austerity of this single instrument, which in the 19th century was not particularly well-developed in terms of technical possibilities must not have been very appealing composers. Kodály was the first to show the solo cello a way forward into the 20th century through a new approach: the scordatura, which adds tonal depth and an extremely increased virtuosity.
The solo sonatas by Ligeti and Kodály were written approximately 30 years apart. Was Ligeti inspired to write his solo sonata by Kodály's work which by then was already established as a master piece?
GS: Ligeti himself stated that the first movement of his sonata was influenced by Kodály. He strives for a simple melody with a clear "Hungarian profile" which incorporates many folk elements and has a certain archaic feeling to it. The Capriccio which was written a few years later, already gives us a glimpse into a different creative phase of the composer with its strong chromaticism and mechanical character.
Let's come back to the Kodály duo again. Both of you are not only a musical duo but also a married couple. What advantages (or disadvantages) are there for music making when you are as close to one another privately?
HW: We have been playing together in different formations for many years and can build upon an established musical framework, allowing us to delve into substantial details of expression and sound in rehearsals. We also particularly enjoy our conversations away from the instruments where we find time to talk in detail about the composers, choices of tempo, finding the right sound or aspects of instrumental technique.
GS: To me the balance between individuality and intimacy in our music making is very special. Each of us has their very own ideas and yet we meet on a basis of shared musical values that grant us a lot of freedom. Our ideas of sound have evolved together over time and complement one another very well.
You play two very special instruments on this album. Would you like to tell us about them?
HW: My violin is a Matteo Goffriller from 1698 which I have been playing for 2 years. The moment after our first run through in the studio was very exciting as Gabriel had just started playing on his Guarneri cello for this recording. After we put the headphones on, we could hear the two instruments together for the first time!
GS: I had in fact received this cello just prior to our recording sessions. The clarity and density of its sound spoke to me immediately and I therefore decided to record the CD on it. Both instruments get along very well – maybe because they are virtually the same age!
Some musicians have several instruments for different repertoire, some use the same instrument for everything. How do you do that?
HW: My Goffriller violin is more than 300 years old and yet I can play the whole repertoire from baroque to contemporary music on it. I do like to try different bows though. My violin is very sensitive to different types of bows, whether it's a 150-year old French bow or a new bow by a contemporary maker.
GS: My cello and bow are the ideal specimens for me which is why I play everything on them, regardless of the repertoire. With the lower strings, I sometimes like to switch between gut and steel to get either a warm, full sound or a more balanced, precise one.
You recorded the new album in Radio Bremen's Sendesaal where you, Mr. Schwabe, have already recorded on several occasions. What are the advantages of this recording location?
GS: To me, the Sendesaal offer a unique acoustic combination of richness and clarity which is very inspiring. It's important to feel good and invited to play when sitting in front of the microphone. Also the vintage recording equipment from the golden age of analog recording adds its own charm to the result.
Are you planning to record more duo albums or will you continue with soloistic projects?
GS: Our next recording projects will be soloistic, but this will certainly not be our last duo recording! While the Kodály duo is a substantial part of the repertoire, there are many other attractive pieces for this combination. And there are still interesting works being written for violin and cello…
The Corona crisis has halted and delayed everything in the music world but luckily it does not prevent one from making plans. What are your plans for the future for when the situation has relaxed and for when things will hopefully return to some normality next year?
HW: As of now, it is very difficult to anticipate for how long the Corona crisis will continue. Some concerts happened in the last months by following hygiene concepts, which in my opinion worked very well and we hope that our concerts of the coming months will take place as well. In addition we'll also focus on our teaching at the universities in Cologne and Dresden.
GS: There are many projects planned for next year, among them two CD recordings. I hope that we'll find creative solutions to make these happen despite the current situation.