On the 100th birthday of one of the most outstanding 20th-century Hungarian piano performers, György Cziffra, his memory is evoked by concerts and a boxed set with all the studio recordings made by the virtuoso pianist for EMI and Philips.
Czyffra is honored at the Bartok Concert Hall of Müpa in Budapest on 5 November, then on 7 November, in the concert hall of the Auditorium de Radio France in Paris. For the festive gala concerts, Peter Eötvös composed an new work titled Cziffra Psodia, a piano concerto, which will be premiered by Janos Balazs and the Orchestre Philharmonique de Radio France under the baton of the Finnish conductor Mikko Franck.
The Hungarian-French homage is logical, since in the second half of the 1950s, György Cziffra adopted France as his new home and established an intense relationship with the local music scene.
Eötvös dedicated his new composition to the Hungarian pianist Janos Balazs, who will also perform one of Cziffra's most memorable repertoire pieces, Liszt's Hungarian Rhapsody.
Peter Eötvös encountered György Cziffra when he was only a child. In 1950, the pianist had been sentenced to forced labour due to his failed emmigration attempt; the physical efforts had exerted in a stone-carving factory and at construction sites caused lasting damage to his hands. Peter Eötvös's mother, a former fellow-student at the Liszt Academy, was one of those people who supported the pianist after his release in 1953. Cziffra began playing in coffee bars in Budapest, where the future composer, still as a boy, had the chance to listen to him. As Peter Eötvös recalls, Cziffra's performance was absolutely captivating even despite the poor state of his hands. The two families kept in touch even when the pianist left Hungary. Through his piano concerto, Cziffra Psodia, Eötvös intended to outline the highlights and hardships of the legendary pianist's life and work with the tools of music.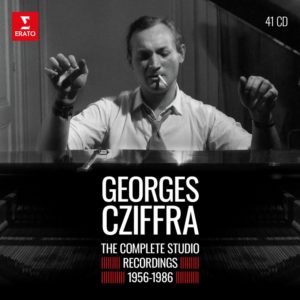 At the same time, Warner releases the aforementioned CD box. The box goes from Czyffra's first 25cm LP released in 1956 when he arrived in Paris, to the last sessions in the Senlis chapel in 1986 a few years before he died.
This thirty-year period covers a consistently varied and thrilling repertoire, the lion share constituted by Liszt and Chopin, but also dazzling improvisations, paraphrases and transcriptions which also bear witness to his mastery, imagination, and musicality.
Along with the test recordings from French archive released in 2008, this collection includes for the first time a studio recital recorded in Tokyo in 1967 and a live performance of  Piotr Tchaikovsky's Piano Concerto No. 1 recorded t in 1957 with Carlo Maria Giulini as conductor.