A well-known pianist as a composer – can he do the same for other instruments? This or similar questions may be asked by many music fans when they come across the new album Fazil Say – Complete Violin Works.
The album (Pizzicato review) was initiated by the German born violin virtuoso Friedemann Eichhorn. In an interview with René Brinkmann he reveals his motivation behind the new project and also talks about his view on CD recordings in general. We also learn some interesting facts about the plans of the exceptional violinist, who teaches in Weimar and at the renowned Kronberg Academy, and who is very successful in combining an international career as a concert soloist and chamber musician with a rock-solid pedagogical career.
Mr Eichhorn, Music for Violin by Fazil Say – this may sound surprising to some listeners at first, because Fazil Say is still known primarily as a pianist. You yourself speak very appreciatively of Fazil Say's compositions and count them among the best music for violin in the 21st century so far. What do you find so special about his music, what is it that attracts you so much?
Friedemann Eichhorn: Fazil Say has a very personal compositional style, unmistakable. His pieces tell stories. He is a great inventor of sounds and timbres that you won't find in other music. And the rhythmic conciseness is phenomenal. You can discover compositional elements that I would like to call « western » and « eastern ». There are, for example, folklore and jazz elements, freetonal or with tonal centres. That is what makes his music so exciting and an experience to play! The expression in his music has an immediate effect, the emotions are transported very directly and clearly. And I always notice from the audience reaction: even audiences that rarely listen to music by living composers react frenetically! His music is technically very demanding at times, but it all lies perfectly in the hands. Fazil knows a lot about violin technique.
Say's compositions often have programmatic titles. Have you spoken to the composer about the programmatic nature of the music or does Say reluctantly talk about concrete content and leaves that largely to the imagination of the performer?
Friedemann Eichhorn: He talked about this very precisely during rehearsals. Especially with the violin concerto « 1001 Nights in the Harem » and the new violin sonata, Fazil Say also explained thoughts to me that are « between the lines ». In the violin concerto there are many onomatopoeic passages that actually represent words. The piece more or less follows a « storyline » with different characters.
The relationship between the music and the programmatic content is particularly present in the newly composed second violin sonata with the subtitle « Mount Ida », which deals with the destruction of nature in the course of the construction of a gigantic gold mine in the Turkish Ida Mountains. Can you briefly explain the immanent programme?
Friedemann Eichhorn: Entire forests have been cut down in the Ida Mountains because of the gold mine. Fazil Say expresses his protest about this in this work. Right at the beginning you hear hammered beats in the low, prepared register of the piano. This is threatening, as if destructive machines are at work here! The violin raises to an almost desperate, resigned, choral-like theme… This is how this very impressive work begins. But there are also sounds and spaces of hope.
In the second movement, which is entitled « wounded bird », the violin acoustically imitates, among other things, the sounds of a « wounded bird ». I was wondering how this is notated. Is it at all possible with classical notation? Or to put it another way: how much improvisation by the soloist is required here?
Friedemann Eichhorn: That is actually completely improvised. The musical text says: « improvisation any bird sound ». In this respect, this recording is indeed a real world premiere, the capturing of a special moment in a special mood.
For the violin sonatas you had the opportunity to record the music together with the composer Fazil Say. Is it any different to work on a score when you always have in mind: « If in doubt, I can ask the composer himself »?
Friedemann Eichhorn: Your question describes exactly why I am so fascinated by new music in principle and by working with a composer. I have always enjoyed musicological research. With living composers the optimal source is so close and so direct! Especially with Fazil Say this is fantastic because he shares his ideas very clearly.
Was Say also present at the recording session of the violin concerto that you recorded together with the Deutsche Radio Philharmonie under Eschenbach?
Friedemann Eichhorn: No, but I had the opportunity to re-rehearse the Violin Concerto with Fazil Say for the recording. He played the orchestral part on the piano. Before the recording I had performed the concerto several times.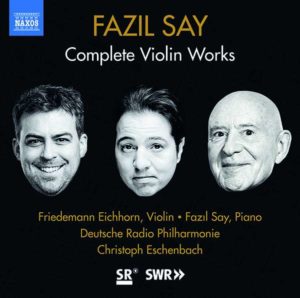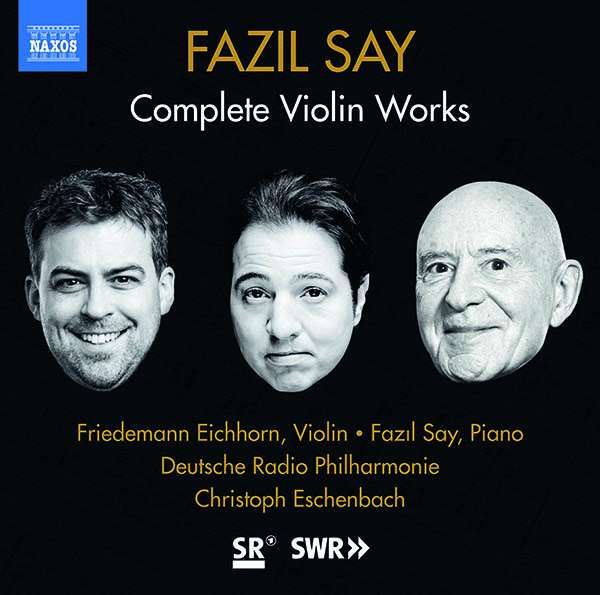 Before you recorded this album, you had spent several years rediscovering the music of composers such as Johanna Senfter, Pierre Rode, Frédéric Kummer and François Schubert, in other words, basically repertoire from the Romantic period and, in Senfter's case, late Romanticism. So now the leap into the 20th and 21st centuries to Say in the present – how did this come about?
Friedemann Eichhorn: Because I was so fascinated by Fazil Say's violin concerto – It was the first violin work of his that I played – I wanted to get to know his chamber music as well. So I took up the violin sonata and « Cleopatra » as well. Because I was also enthusiastic about them, I came up with the idea of making the first complete recording of his violin works. My record company Naxos was immediately convinced of the plan. And that culminated in Fazil Say's idea to write a new violin sonata for me for this occasion.
Will this album with music from the « here and now » be a « One Shot » action or would you like to consciously focus more on the musical present in the future?
Friedemann Eichhorn: In my concert activity I have always been intensively involved with the musical present, especially in chamber music. As far as recordings are concerned, it is indeed the case that almost all of my 30 or so CD albums to date range stylistically from baroque to late romanticism. This will soon change, as my next major project will include several CDs of all the works for violin and orchestra by Alfred Schnittke, whom I consider to be part of the musical present despite his premature death.
You are a professor at the Franz Liszt Academy of Music in Weimar and are also intensively involved with the renowned Kronberg Academy as director of the Kronberg Academy programmes and the festival. How can this be combined with your likewise very active career as a soloist and your work in the trio with Florian Uhlig and Peter Hörr?
Friedemann Eichhorn: On the one hand, I strictly separate the activities from each other, but on the other hand, they inspire each other in terms of the experience they gain and the constant learning. In the end it is always about one thing: music, the subject I love most – apart from interpersonal relationships, of course. But you have to be well organised to connect all the fields of activities.
There are a lot of teachers who mainly teach, but rarely give concerts or make their own recordings. But for you it seems to be very important not to lose sight of concert practice. Does that give you concrete impulses for the education of young musicians?
Friedemann Eichhorn: Making music on my own has a very high priority in my artistic life. I never see it as work, I feel like I'm doing it in my free time. This also includes travelling and especially making music with friends. I learn an enormous amount from them and from playing myself, and this is directly reflected in my teaching activities. But there are enough first-class examples of « pure » pedagogues, that is just a question of personal character, I think.
You are an artist who has worked with a number of labels and has built up a very extensive discography. What does working on a CD album mean to you?
Friedemann Eichhorn: A CD is a small time capsule for me. Just as a scientist or writer is happy to hold his printed book in his hands, so it is always a wonderful experience for me to round off a musical project by recording it. And I personally also much prefer CDs with booklet, lyrics and beautiful layout to pure online productions. I find this haptic element important. Although I hardly ever listen to a CD I recorded myself, it is an incentive for me to capture a certain interpretation as a snapshot of a certain time in my life.
In a time in which classical sound carriers on the one hand are losing more and more importance, while on the other hand music is becoming inflationarily available through youtube, spotify and other services, how does this change the social view of recordings in your opinion? Are people still aware of its significance as a « sound document », as you see it yourself?
Friedemann Eichhorn: The influence of the CD or its significance for listeners is undoubtedly decreasing, but not for musicians, at least I can say that for classical music. Streaming services naturally lead to fast consumption, possibly in sets with playlists all over the vegetable garden. In my opinion, a CD with a programmatic thread or a portrait of a composer, for example, is much more sustainable. In this way you get more of the overall idea of the recording.
Finally, what are your plans for the future?
Friedemann Eichhorn: I look forward to numerous concerts, always with works by Fazil Say. I have hinted at the Schnittke project, and the world premiere of a violin concerto is scheduled for 2022. But I cannot reveal more about this, yet…