Ettore Panizza (1875-1967) was an Argentinian conductor and composer, and one of the leading conductors of the early 20th century even though he is almost forgotten today. Now, a book, The Other Toscanini, published by University of North Texas Press (UNT Press) puts the musician in the spotlight.
Ettore Panizza's parents were Italian, but he was born in Buenos Aires. His father was a cellist as well as a composer and he gave his son his first music lessons. Ettore then travelled from Argentina to Italy to enter the Milan Conservatory, where he studied piano, composition, harmony and counterpoint, receiving the Conservatory's first prize for composition upon graduating. He made his debut as assistant conductor at the Rome Opera in 1897.
He developed an astonishing international career, becoming music director of, successively, Covent Garden, la Scala, Teatro Colón, and the New York Metropolitan Opera.
He was closely associated with La Scala in Milan (where he conducted, along with Toscanini, operas like Wagner's Ring in 1926). At the Metropolitan Opera in New York City – where he succeeded Tullio Serafin as principal conductor of Italian repertoire, working for eight seasons with singers like Rosa Ponselle and Enrico Caruso – and mainly with the Teatro Colón in Buenos Aires where his opera Aurora was premiered during the inaugural season.
Panizza composed four operas: Il fidanzato del mare (1897), Medio Evo Latino (1900), Aurora (1908) and Bizancio (1939). He died in Milan in 1967. Now virtually forgotten, Panizza's name is being revived in this definitive biography, which describes both his life and his legacy, strongly associated with that of the great Arturo Toscanini.
He was greatly admired for his grasp of the German as well as the Italian repertoire: in 1932 Richard Strauss wrote to him, « I continue to recall the magnificent Elektra which you directed in Milan with such finesse and élan, fulfilling all my wildest dreams. I hear that they intend to put on Elektra this summer in Buenos Aires, and you mentioned that you most probably will be the musical director of the Colón Theatre. In that event, I shall have only one desire: that you direct my Elektra also in Buenos Aires; I cannot think of a better interpreter… »
Panizza's conducting style was highly dynamic and extraordinarily vigorous, as may be heard from the many published recordings of radio broadcasts of performances that he conducted at the Metropolitan Opera.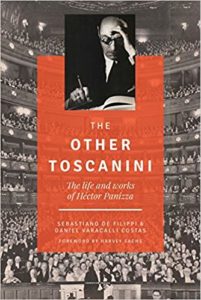 The thoroughly documented and very complete biography The Other Toscanini, The Life and Works of Héctor Panizza does not only give an impressive and detailed overview of his life, it draws a very good picture of the music life in Europe, in the States and in Argentina at Panizza's time. Anecdotes and photo add a lively presence to the facts.
The authors of the book are Sebastiano de Filippi, currently Music Director of the National Congress Chamber Orchestra in Buenos Aires, and Daniel Varacali Costas who has worked as a journalist and music critic.
The foreword is written by Harvey Sachs, author of Toscanini: Musician of Conscience
The Other Toscanini
The Life and Works of Héctor Panizza
By Sebastiano De Filippi and Daniel Varacalli Costas
Foreword by Harvey Sachs
978-1-57441-774-6 Cloth
6 x 9. 320 pp. 28 b&w illus. Notes.