At the International Tchaikovsky Competition 2015, Russian pianist Dmitry Masleev took First Prize and then started a tremendous career. Pizzicato recently praised his art when he played at the Lucerne festival. Remy Franck made the following interview with the now 30-year-old Siberian pianist.
You won major competitions. What are your memories from them?
I always try to focus on the advantages, to hold on to the positive aspects of any experience. Of course any competition is a huge stress. But when I think back to my competition 'career', I realise how useful it was for me to have to learn a large body of repertoire and to bring it to the stage under the most stressful circumstances. Also, participating in a competition meant traveling to a new place, so I always returned with a wealth of new impressions.
How important are, according to you, competitions for the music industry?
I've never really thought about it in terms of the industry, but for me personally the Tchaikovsky Competition was the magic key that unlocked the doors into the world of international touring. Actually, most of the competitions I took part in prepared me, in one way or another, for the unusual life of a concert pianist, which I am privileged to lead.
Which kind of feelings did you have when you won the Tchaikovsky?
To tell you the truth, the details of that period are a bit foggy in my memory now… I only recall doing my best to maintain laser-like focus on my repertoire and tune out all the distractions.
How did it change your life?
I will never stop being grateful to the many people who worked together very hard to organise the competition and to promote it in the media. It helped us, the participants, very much indeed to have the overwhelming support of the audience – both those who attended the rounds, and those who watched and listened online from every corner of the world. All this attention and awareness gave us a chance to be recognised and invited to perform in different countries afterwards. Now I can go out on stage and meet new audiences all over the world, and I am truly happy.
Has your view on the music changed?
It's fair to say that the fundamentals of my approach to music-making were shaped during my years at the Moscow Conservatory, where I studied with Professor Mikhail Petukhov. Now, they are complemented by the real-life performance experience and the need to remain in top form at all times, physically and mentally.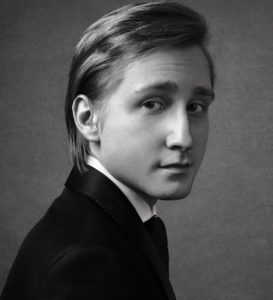 Tell us about your repertoire preferences.
I am crazy in love with Russian music and everything to do with it. It wouldn't surprise you to know that my favourite composer is Rachmaninov; many pianists feel the same way. As a teenager, I would day-dream about playing the variations on the Theme of Paganini… it's impossible to accurately describe the feelings I had when I realised that I could actually play this piece and people were there to listen.
People wonder about the 'secret' of Rachmaninov's undying popularity, but it's actually quite obvious. The compositional structure of his music is very complex and there is an infinite range of harmonies and sound textures, so it's never boring, never predictable. Yet it remains totally accessible because of its simple and beautiful tunes that can touch anyone's soul, even if they don't usually go to concerts.
The newest Rachmaninov piece in my repertoire is the legendary Third Concerto. When I was learning it, I fell in awe of this music, as if I was approaching something of great spiritual value. By now I have performed it over a dozen times all over Russia and Europe, and I have a growing feeling that this piece can be encountered hundreds of times without it losing its novelty. That's another thing about Rachmaninov's music: It is a whole universe, and you will never get tired of exploring it.
If you had to classify recital, chamber music and concerts with orchestras?
When I play with an orchestra, I am immediately charged by their energy. Right after the performance I really want to go back out on stage and play another concert.
Chamber music is a different kind of an exchange. I've been very lucky with my chamber music partners, so it's always a very enriching experience that gives me a lot to think about in all my music-making. It's a wonderful way to reflect on different ideas and to develop as a musician.
As for recitals, it's a chance to really communicate with my audience one-on-one. I better have something interesting to say!
Germany and France have become particularly important destinations for you. Why?
I can only speak about my personal impressions: I really admire the attitude towards classical music and deep traditions of musical life in France and Germany. Every more or less important city has a decent orchestra, even smaller towns have excellent recital series, and there are so many festivals with long history and warm, knowledgeable audiences.
Do you have any recording plans?
Yes, I do! It's a bit too early to give too much away, but one of the albums I am planning will probably surprise my fans. I am also working on two recording ideas that will allow me to celebrate two of my very important artistic partnerships.
Eine CD-Rezension gibt es hier.