The Classic Violin Olympus International Competition is celebrating its inaugural edition, with organisers officially unveiling the opening of registrations for the event's global pre-selection phase, marking the start of a groundbreaking musical voyage that promises to redefine the world of classical music competitions.
Taking place under the guiding hand of the esteemed Artistic Director Pavel Vernikov, this competition is poised to disrupt the traditional norms of the classical music sphere, in a quest that seeks to discover and celebrate the world's most exceptional violinists.
Featuring a groundbreaking prize fund of €310,000, with a First Prize of €200,000, Classic Violin Olympus will be presided over by a 23-member jury panel, meticulously chosen from among the world's leading conductors and directors of renowned orchestras, festivals, and concert series, who will all add their vast wealth of expertise to the process of discovering the greatest violin stars of our time.
With this ambitious goal in mind, the competition has decided to take the bold, pioneering step of eliminating practically all entry criteria, and, in what is a first for a contest of this type, choosing to welcome participants of all ages and nationalities from every corner of the globe, with musical talent being the sole criterion for success.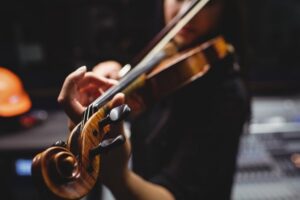 The competition's programme, meanwhile, is equally unprecedented, as Classic Violin Olympus shall be presenting a unique six-part process that has been expressly designed to challenge all aspects of the participants' skillset, and give the most talented musicians the opportunity to shine on the world stage. Candidates will first be asked to perform alongside a symphonic orchestra, before being requested to take on the role of concertmaster and lead the orchestra themselves for the second round. The third phase shall then see them engage in a performance of Beethoven's Triple Concerto for Violin, Cello and Piano with Orchestra, performing alongside two globally-celebrated soloists as well as the full orchestra. Finally, the violinists will be invited to present a work by a contemporary composer followed by a solo encore, before taking part in a Q&A session with the members of the jury panel.
The pre-selection process itself, meanwhile, showcases another break with tradition, with the competition boasting a revolutionary pre-selection process that seeks to allow as many violinists as possible to take this chance to exhibit their talents on the global stage. Six pre-selection events will be held in all, taking place in Tokyo, Vienna, New York, London, Paris, and Tel Aviv across the course of 2024. Each of these contests, which will be judged by a five-member board and feature their own prize fund of €35,000, shall offer the participants a way to make it to the Grand Final, with the top two contestants from each event being granted an exclusive, all-expenses-paid invitation to the Grand Finale — a dazzling showcase scheduled for April 22nd to 28th, 2025, in the radiant city of Dubai, UAE. Here, 12 musicians will compete, each having earned their place through fierce competition, promising an unforgettable musical spectacle.
This pre-selection process is already underway, and applications are now open to all talented violinists aspiring to etch their names in the annals of classical music history. Registration deadlines vary for each preliminary competition, so make sure to visit the website of your desired contest and seize this extraordinary opportunity today!
For full details about Classic Violin Olympus and each of the pre-selection events, please visit the official website at www.classicviolinolympus.com. (PR)