Organized at the initiative of conductor John Axelrod, the first Concert Culinaire de Chardonne in Switzerland was a resounding success, a press release says. Sold out and in high demand, the concert featured violinist Alexandra Conunova performing Vivaldi's and Piazzolla's Four Seasons, with Maestro Axelrod conducting the International Orchestra of Geneva. Tchaivkosky's Serenade for Strings and Verdi's Libiamo from La Traviata completed the program. Audiences were treated to a degustation of hors d'oeuvres from Mathieu Bruno of Là Haut and wines from Le Parrain.
The event was also highlighted with the offering of the now famous acoustic masks invented by Ivan Fischer, Music Director of the Budapest Festival Orchestra. Following the Mozartian principal to turn a necessity into a virtue, these masks, each one of a kind, provide an ideal acoustic experience while wearing a mask to ensure sanitary safety. The Concerts Culinaires de Chardonne was the first musical event to offer these masks in Switzerland. The public purchased the masks which resulted in rounds of selfies and enhanced enjoyment for everyone.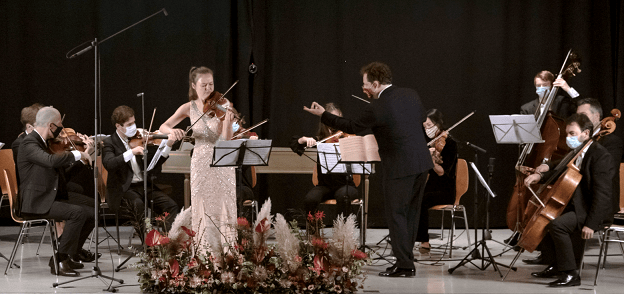 After the concert, gourmet deluxe ticket holders were treated to a sumptuous 5 course dinner with especially selected wines orchestrated and prepared by the award-winning chef Mathieu Bruno at his restaurant Là Haut.
« The Concerts Culinaires de Chardonne is the first major cultural initiative of its kind for not only the benefit of the residents of Chardonne and Mt. Pélerin, but also all of the Riviera regions, if not also all of Switzerland. We are proud of our heritage in this UNESCO wine region. To be able to support this tradition as well as the wine merchants and restaurants of our commune, while providing such high-quality musical performances, puts Chardonne on the cultural map. I speak for everyone when we say thank you to Maestro John Axelrod. We cannot wait for the next Concerts Culinaires de Chardonne," says Dominique Monod of La Société de développement Chardonne – Mont-Pèlerin.
John Axelrod says: « Linking wine, food and music is nothing new: what makes the Concerts Culinaires de Chardonne innovative, and my idea comes from there, is to combine the best of each in order to create a sensational experience accessible to the public. I wasn't always a conductor. Before that I was the Director of the Robert Mondavi Wine and Food Center in California. So it came to me the idea to make a link between my experience as a connoisseur of wine and gastronomy and my experience as a conductor and musical director. This is how the concept was born. In summary, I would say that I have always had a desire to create a unique experience for lovers of wine, food and music. The Culinary Concerts are the realization of this dream."