Since many years, the Güher & Süher Pekinel Piano Duo attracts exceptional attention in the international music scene. Their orchestral engagements include performances with distinguished orchestras such as the Berlin, Vienna, New York, Israel Philharmonic, London Philharmonia, Royal Concertgebouw Orchestra, Philadelphia Orchestra and Leipzig Gewandhaus Orchestra. At their extensive recital tours, spanning the major music halls of Europe, Far East, among them Japan, and the United States, they have received wide critical acclaim for their extraordinary poetical musicality, pianistic perfection with genuine style and interpretation.
Arthaus Musik honours the Duo with an extensive edition including 4 DVDs, 2 Blu-rays and 7 CDs with numerous piano works and piano concertos, presents the most important recordings from the career of the Turkish twin sisters – the real treasures of the world-class piano duo.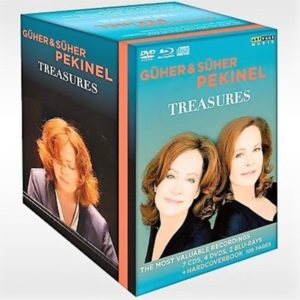 Running: 333min (DVD); 189min (Blu-Ray); 512min (CD)
DVD 1/Blu-ray 1: Pekinels play West Side Story
DVD 2/Blu-ray 2: Zubin Mehta: Güher & Süher Pekinel in Concert
DVD 3: Bach Jazz: Güher & Süher feat. Jacques Loussier Trio – Bach Concertos
DVD 4: Güher & Süher Pekinel Live in Concert
4 Audio CDs with piano works composed by Bach, Bartók, Bernstein, Brahms, Gershwin, Granados, Infante, Lecuona, Liszt, Lutosławski, Mozart, Penderecki, Poulenc, Rachmaninov, Ravel, Saint-Saëns, Stravinsky
3 Audio CDs with 10 classic piano concertos + Bach Jazz Version
Pizzicato's interview with the Pekinel Duo is here.