In these days, the Gewandhausorchester Leipzig celebrates the official inauguration of Andris Nelsons as Gewandhauskapellmeister. Martin Hoffmeister met the conductor for an interview.
Mr. Nelsons, Gewandhauskapellmeister, what do you think about this title? That´s pretty old-fashioned, isn´t it?
I have several emotions and exciting feelings about this title. On the one hand, it´s a historical title and it´s a great honor to have such a title with a great tradition from so many years ago. On the other hand, the title is quite contemporary at the same time, because the Gewandhauskapellmeister has always been influencing and participating in a lot of commissions, a lot of new works. Whether it was Mendelssohn or Bruckner´s 7th Symphony, there were so many composers who premiered in Leipzig, and this brings the contemporary part to the title. Leipzig has never been in the position of compromises, it has never been like a museum or laid down. But, beyond all this, having this title is of course a great honor.
Do you remember your first encounter with the Gewandhaus Orchestra in 2011?
Yes. The first time I conducted the Gewandhaus Orchestra the program was Strauss´s Don Juan and Sibelius's 2nd Symphony. I remember the special chemistry from the very beginning. I was so fascinated by the sound of the orchestra and also by the discipline and the working ethos. The Gewandhaus-Orchestra dedicated itself very much to the rehearsal period. It has a very serious and deep understanding of the music. That was my first impression. And since 2011 I have been coming practically every year as a guest-conductor, and these feelings and the chemistry have been growing stronger and stronger.
What does the long tradition of the Orchestra mean to you? Challenge or motivation?
I think, the tradition means both challenge and motivation, and more than that. On the one hand, this tradition means a great mission – to carry it to the next generation. On the other hand, it is also a great challenge; it is not an easy task because it needs a lot of knowledge and a lot of dedication. And from a third point of view it is so amazing and so exciting because at the end, making music is never like a museum. When we perform music, whether it´s Bach, Schleiermacher, or any contemporary composer or any composer from 300 years ago, I think, you should perform the music like the music was composed yesterday. So, we play it with the same excitement, like we would play it for the first time. Therefore, I would say it´s mission, challenge and joy.
How would you describe the character of the orchestra in three terms?
The musicians are honestly and seriously dedicating themselves to the music, to the great tradition and to the depth of the music they play. That is certainly one thing. The second thing is the disciplinary and wonderful work ethos of all these performers, and the third is the extraordinary and very special sound with its great palette of colors and emotional states.
So, tell me something about your idea of sound with the Gewandhaus Orchestra.
I think, with the Gewandhaus Orchestra you can´t say, it´s a German sound. I think it´s a Leipzig Klang, it´s a Gewandhaus-Klang which is very special. It is very different from the sound of the Berlin Philharmonic, Dresdner Staatskapelle, Vienna Philharmonic or Bayerischer Rundfunk. It´s so great, that all of these great orchestras have a special and different sound, a different tradition and different qualities.
The Gewandhaus Orchestra is one of the oldest orchestras in the world and therefore it is in a way more German than for example the Berlin Philharmonic or Bayerischer Rundfunk because of its age. But the sound is also influenced by its historical background with Bach, Mendelssohn and other composers or conductors who have worked there in the past. I think, the Gewandhaus Orchestra has a wider palette of sound, that can´t be described with the typical German sound. On the one hand they have this great rich sound, which is very often needed for Brahms, Wagner, Strauss or Bruckner. For these pieces you need a richness and depth in the sound. On the other hand, there are moments, where the Gewandhaus Orchestra has such a special color in its sound; it has intimate and transparent chamber music moments that come very much from Mendelssohn and Bach, I think.
Mr. Nelsons, which of your artistic goals should be fulfilled, let´s say by the end of 2019, at the end of your first full-season with the Gewandhaus Orchestra?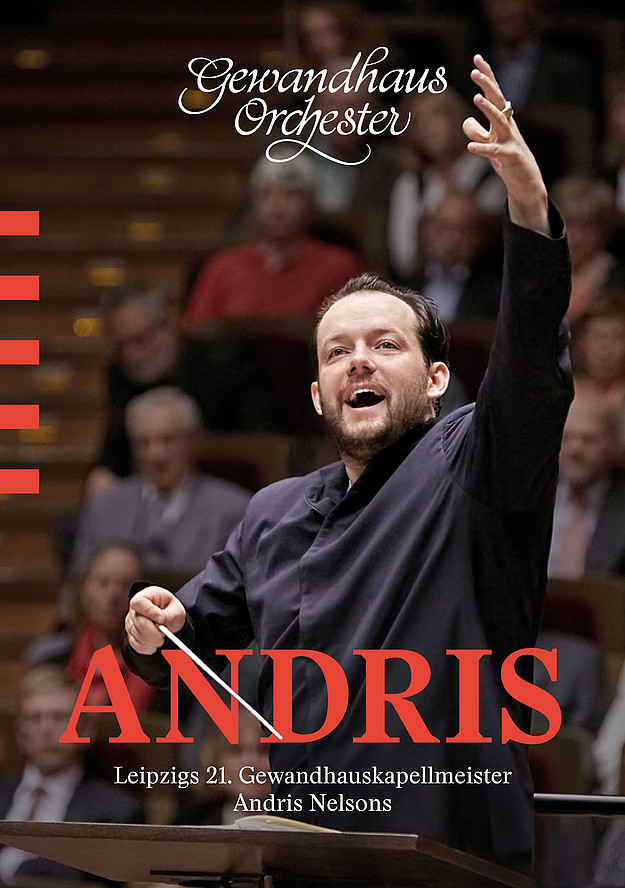 There are many long-term-plans or let's say long-term-dreams and ideas. But I think the first one for me is always to maintain the chemistry with the orchestra, that we are feeling as one organism, when we perform music, that we greatly respect each other. Second priority is to have a great contact and a great family-feeling with the audience. And then of course we have to play the repertoire. It´s a great mission and a great joy to play the repertoire of the great composers of the past because this is prodigy repertoire. At the same time, we want to look to the future with the eyes of the past, look forward to what the composers write today and how we can connect with them. In all that we need to keep the audience in mind. There should not be a distance, so that you think there is something ugly. Of course, there is so much music and there is also a lot of bad music, but that has been always the case. We should balance this and introduce new good music to the audience in a way that they feel like they would take the journey to get there with us. We would never want to put something against the audience and act like we would not care. You need to embrace the audience, particularly in the first year and take them along our journey. It is important to have a great big team together and to create an atmosphere which is enjoyable for everyone. It´s not like, "oh we do that, you don´t understand, okay it´s your problem". It´s never like that.
One of your main projects will be to record all Bruckner Symphonies. Why Bruckner? What fascinates you about his music?
There is a Bruckner tradition in the Gewandhaus of course. There are many conductors who have recorded Bruckner previously and the Gewandhaus-Orchestra has played his music a lot. For me personally, this composer is very close to my heart. I think the palette, the range of sound and the intensity of sound in Bruckner´s music is very wide and it has very intimate, almost naïve moments. That´s a great amplitude. We want to find the humanity in his music. As every human being Bruckner had doubts, he was obsessed with his problems, he had a very religious personality; he was a very complex personality with a lot of problems and a lot of worries. We want to show Bruckner´s human-being with the symphonies and I don´t think any other orchestra would have such a palette as the Gewandhaus-Orchestra does.
You also plan to play the symphonies by Tchaikovsky with the Gewandhaus Orchestra. Why?
Tchaikovsky was considered as too European for Russia because he liked the European music. For example, lots of his forms are clearer, more classical in a way, but at the same time very emotional. Everyone in the audience can understand it differently and personally. Every musician and also Tchaikovsky requires combinations of chamber music elements and the intimacy, flexibility and also dramatic moments, which of course each of the symphonies has. I´m looking forward to play all his symphonies. And I think, this is the Orchestra which will get into the heart of Tchaikovsky's music without putting too much sugar and honey in it.
You also held the post of musical director at the Boston Symphony Orchestra. What does that mean to you, being conductor of two orchestras? Does a double commitment have any artistic impact?
I´m absolutely lucky and happy to have these two orchestras, both with a great tradition, a great history. Both have such great artistic and historical connections. The Boston hall is practically a copy of the second Gewandhaus hall, which was destroyed. The hall in Boston is a little bit bigger as the original one and in my opinion,  it is still one of the best halls in America in terms of sound. And Nikisch was music director of both orchestras as well. Boston Symphony Orchestra has been one of the orchestras which premiered quite a lot with Koussevitzky and of course the Gewandhaus Orchestra has performed a lot of new commissions and historical pieces, too. Both orchestras have their own traditions and own sounds. Their partnership is like a friendship, where they can share their qualities and traditions. It´s sharing and learning from each other in a turbulent world. This partnership shows very well, that music is so universal, that music unites in a peaceful way. I think this is very special and also very unique.
How would you describe your way of making music? Are you more, let´s say, an analyst or do you trust more in your emotional inspiration or in the momentum during the performance?
I think it´s a combination of things. In the end it´s a really complex thing. Firstly, as a conductor, you have to be very prepared for the rehearsal. You have your arms as your instrument, you have to show technically and emotionally, what you think the music is expressing and you have to communicate with the orchestra. But the very important part is trusting in the musicians, because they are playing and they are amazing players. I think, if the orchestra trusts the conductor, the conductor trusts the orchestra. Music has nothing mechanical or mathematical; even the most analytic one, I think is based on emotional things. The body is working and it´s doing its mathematics things, but it´s not in a mechanic way, the body reacts to what happens in your heart. I think it´s the same with music. Karajan said that conducting is like riding a horse. The horse is an animal, which must put up with a lot, but sometimes it can be very angry. With conducting it´s the same thing; if you want to control everything all the time, then, I think, the orchestra can get annoyed. At the end, they don´t follow you, they just think, "ok, he doesn't let us play, he doesn't let us breathe."
What about transcendental categories in music?
Every great composer has some transcendental moments, that´s what is feeding us, what is making us maybe better. Of course, there is music which is aggressive at some moments, but as a contrast there are transcendental moments like in Parsifal, Bruckner or Mahler. We need this moments, and music gives this moments. In a way, music is the highest art form, because it goes beyond the intellect. I think music is something, what you can understand, even if you have not learned anything about music. It just talks to you. It´s like a medicine at some moments.
Where does your inspiration come from?
I think my inspiration comes from music, even from nature and from sleep. Sleep is an important part. But overall, it´s music and nature and everything what happens in life.
As conductor of different leading ensembles of the world I think it must be a real challenge to find every time an individual, suitable approach to them all. So, what comes first? Nelsons´s strategies or the conditions of the orchestras?
I´m luckily music director of two amazing orchestras. These are my musical homes. So, I concentrate all my energy, all my heart on those two orchestras. As a guest-conductor, for example with the Berlin Philharmonic, I am very limited. For me it´s important to stay human, love the music and put the composers on the podium, because they are the geniuses. I don´t try to think that I am the important one in this. I hate arrogance, whether in music or anywhere else. Whatever we do, in any profession, it depends on the discipline and the training. It´s not a dictatorship but an encouragement and respect to the music and the musicians. I think we do it together like we are in a boat: the captain can´t do anything on his own, he needs his team.
Do you think CD recordings or touring are important activities for an orchestra?
I think so. I think on the one hand promoting the orchestra in different continents, in different cities and festivals is important. I think it´s a way for the orchestra to develop, because if we go on tour, we play the repertoire several times. Then when we go home after a busy tour and we want to play it better, because during the tour the musicians are getting united and I think this is necessary. Recording is a real privilege and it is important and great. Also, it brings the proudness of the orchestra and of the city. It is also a good opportunity to record the great repertoire.