The 2018 Shanghai Isaac Stern International Violin Competition was launched yesterday, August 10, and will take place until September 1. Pizzicato's Remy Franck will cover the final round from Shanghai. So, stay tuned and don't miss any important information about this competition.
This year's Jury has been expanded from thirteen to fifteen members, and features a number of pedagogues, violinists, and industry leaders to evaluate the contestants in a variety of ways including technique, interpretation, and performing experiences.
The jury – co-chaired by conductor David Stern, son of Isaac Stern, and Professor Vera Tsu Weiling who has sat on the judging panels of many leading international violin competitions – is comprised of violinists Maxim Vengerov and Augustin Dumay; leading figures of China's violin industry Lina Yu and Siqing Lu; the founding member and first violinist of Shanghai Quartet, Weigang Li; the founding member of Emerson Quartet, Philip Setzer; the former concertmaster of the New York Philharmonic, Glenn Dicterow; and concertmaster of Munich Philharmonic Sreten Krstic. The jury also includes pedagogues Zakhar Bron, Dora Schwarzberg, and Daniel Heifetz; and two industry veterans, the founding member of the classical artists management company Askonas Holt, Martin Campbell-White, and the current programming director of Philharmonie de Paris, Emmanuel Hondré.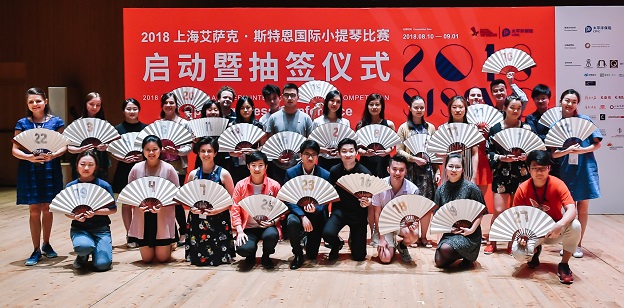 The repertoire of this edition provides a greater focus on interpreting and understanding the musical spirit rather than merely technique, aiming to evolve the candidates from 'soloists' to 'musicians.'
Additionally, the works include more diversified music styles and forms of performances. Each contestant will perform four sets of works during the Quarter-Finals. Then, for comprehensive assessment, the Semi-Finals will include even more diversified repertoire and consist of three sections – the string quartet in which contestants will perform with Yi-Wen Jiang, Honggang Li, and Nicholas Tzavaras from the Shanghai Quartet; sonatas and Kreisler's works in which contestants will collaborate with invited young pianists Zhen Chen, Yingjia Xue, and Qiuning Huang; and a Mozart Concerto with an originally-composed cadenza. In addition to including a concerto of choice, which is conventional in competitions, the Final Round will include the violin concerto, La Joie de la Souffrance, by Chinese composer Qigang Chen, which was commissioned by SISIVC, among others. The piece will be conducted by David Stern, Music Director of Kansas City Symphony Orchestra and son of Isaac Stern.